When most people think of a disaster preparedness kit, they picture batteries, flashlights, and other tangible items. While these items are important to have, it's also important to be emotionally prepared for a disaster as well. What are your coping mechanisms? What mental health resources are available to you? The Disaster Distress Helpline's Disaster Emotional Prep Kit will help you add to your resiliency toolkit with action steps, coping resources, and other disaster behavioral health supports.
Play our new Disaster Preparedness Memory Card Game!
Download the social media toolkit
7 Preparedness Tips
1. Try to Stay Calm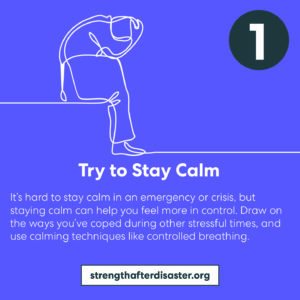 It's hard to stay calm in an emergency or crisis, but staying calm can help you feel more in control. Draw on the ways you've coped during other stressful times, and use calming techniques like controlled breathing or visit safespace.vibrant.org for more coping resources.
2. Follow Emergency Directions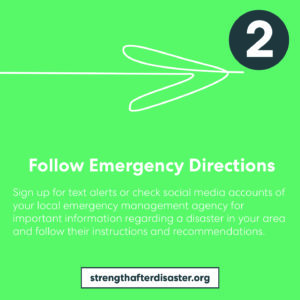 Sign up for text alerts or check social media accounts of your local emergency management agency for important information regarding a disaster in your area and follow their instructions and recommendations.
3. Take Preparedness One Step at a Time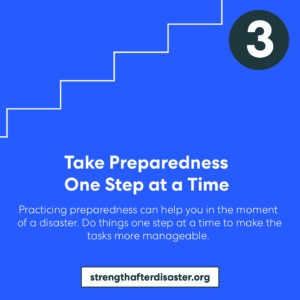 Practicing preparedness can help you in the moment of a disaster. Do things one step at a time to make the tasks more manageable. 
4. Use Your Support Network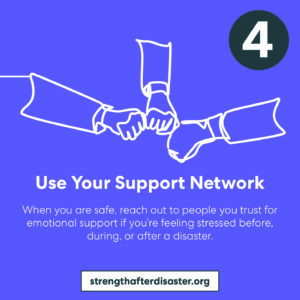 Reach out to people you trust for emotional support if you're feeling stressed before, during, or after a disaster. If you're safe or far away from a disaster that's impacting someone you care about, reach out to them.
5. Call or Text the Disaster Distress Helpline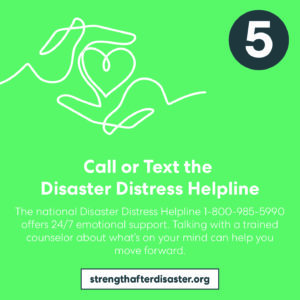 If you're impacted by any natural or human-caused disaster it's common to feel overwhelmed, isolated, or anxious; have difficulty concentrating or trouble sleeping; and other types of distress. The national Disaster Distress Helpline 1-800-985-5990 offers 24/7 emotional support. Talking with a trained counselor about what's on your mind can help you move forward in preparedness or on the path of recovery after a disaster. 
6. Read Stories of Hope and Recovery
Connecting with stories of hope and recovery after a disaster can help you feel more ready to prepare for and cope with a disaster, highlight the resilience of individuals and communities, and provide resources for other survivors and responders that may be trying to prepare, cope, or move forward themselves.
7. Connect with Others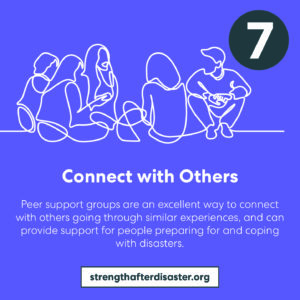 Peer support groups are an excellent way to connect with others going through similar experiences, and can provide support for people preparing for and coping with disasters.
For questions or partnership opportunities, please write to communications@vibrant.org.